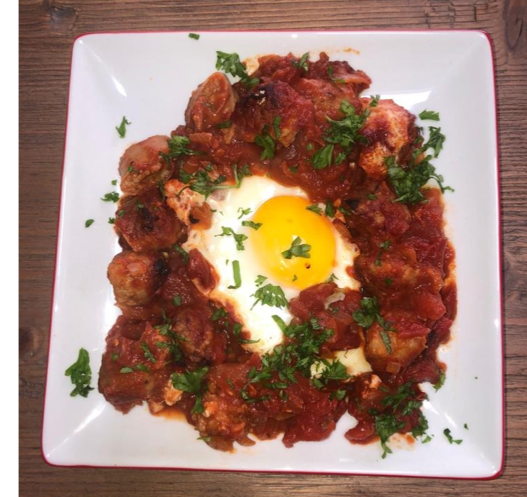 SAUSAGE SHAKSHUKA
May 23rd, 2020
Blackcastle Farm Sausage Recipes
Developed by:
Executive Chef, Paul Lafferty with Tuscany Restaurants, Limerick
Paul Lafferty is a classically trained executive chef who has worked in a variety of awarded fine dining restaurants both in Ireland and the UK. He is currently the executive chef of the Tuscany Bistro restaurants with locations in Limerick and Tipperary. Paul works with the freshest and finest locally sourced ingredients to create tasty, healthy and wholesome dishes, both at work and at home.
Ingredients
500g Piedmontese sausage (chopped)
1X400g tin chopped tomatoes
200g tomato passata
4 eggs
30g feta cheese
½ medium onion (diced)
Small bunch of chopped parsley (chopped)
1tbsp olive oil
¼ tsp cayenne powder
Salt and pepper to taste

Method
Preheat oven to 220C
In an oven proof pan, heat 1tbsp olive oil to med-high heat.
Add diced onion and cook until soft.
Add chopped sausage and brown.
Add chopped tomatoes, passata, and cayenne powder. Stir and cook for approx. 10mins.
Make 4 wells in the tomatoes, and crack one egg into each well.
Place pan in the middle of pre-heated oven and cook for about 10mins.
Remove from oven.
Crumble feta over the top of the eggs.
Sprinkle with parsley and serve.