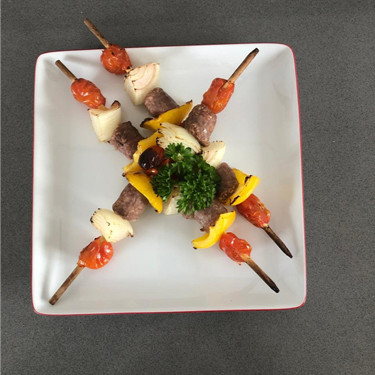 SAUSAGE KEBABS
May 23rd, 2020
Blackcastle Farm Sausage Recipes
Developed by:
Executive Chef, Paul Lafferty with Tuscany Restaurants, Limerick
Paul Lafferty is a classically trained executive chef who has worked in a variety of awarded fine dining restaurants both in Ireland and the UK. He is currently the executive chef of the Tuscany Bistro restaurants with locations in Limerick and Tipperary. Paul works with the freshest and finest locally sourced ingredients to create tasty, healthy and wholesome dishes, both at work and at home.
Ingredients
2 Piedmontese sausages (cut into chunks)
1 courgette (cut into chunks)
½ red, yellow OR orange pepper (cut into chunky strips)
8 cherry tomatoes
Little oil for brushing.
BBQ Skewers

Method
Preheat oven to 200C
Push skewers through tomato, pepper, courgette and sausage in any order.
Brush with a little oil and cook on a baking tray in centre of the oven for 20mins.
Serve.