SAUSAGE, BROCCOLI & NEW POTATO FRITTATA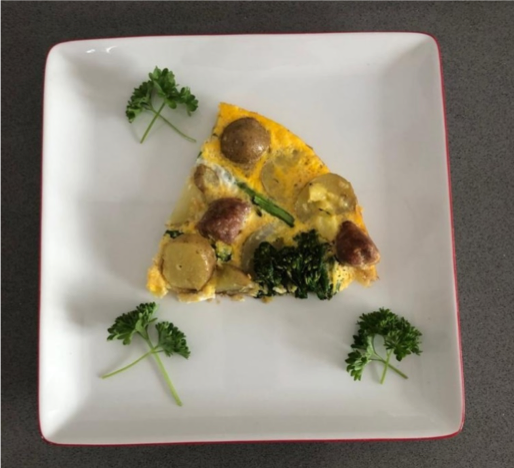 SAUSAGE, BROCCOLI & NEW POTATO FRITTATA
May 23rd, 2020
Blackcastle Farm Sausage Recipes
Developed by:
Executive Chef, Paul Lafferty with Tuscany Restaurants, Limerick
Paul Lafferty is a classically trained executive chef who has worked in a variety of awarded fine dining restaurants both in Ireland and the UK. He is currently the executive chef of the Tuscany Bistro restaurants with locations in Limerick and Tipperary. Paul works with the freshest and finest locally sourced ingredients to create tasty, healthy and wholesome dishes, both at work and at home.
Ingredients
400g Piedmontese sausages (thinly sliced)
100g tenderstem broccoli
100g new potatoes
4 large eggs
2 garlic cloves (crushed)
3tsp olive oil
Method
Boil potatoes until soft. Add broccoli for 1min and drain.
Thickly slice the potatoes.
Heat the grill to high.
Heat 2 tsp of oil in a medium, non-stick pan, brown sausages and garlic and cook for 1-2mins.
Add potatoes and broccoli and season generously.
Beat the eggs in a jug and pour over the potato mix. Cook over medium heat for 2 mins, then grill for 3-4mins or until cooked through.
Can be eaten straight away or served just as good chilled.