MINI SPICED BEEF & YORKSHIRE PUDDINGS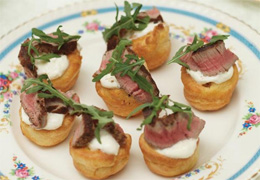 MINI SPICED BEEF & YORKSHIRE PUDDINGS
May 24th, 2020
Impress your friends with this one!
This is a great recipe featured in The Irish House & Home December 2011.
Issue www.houseandhome.ie. Impress your friends with this one!
Ingredients
Yorkshire Puds
100ml (4fl oz) Veg Oil
150g (5oz) plain flour
150ml (5fl oz ) Milk
2 eggs beaten
Spiced Beef
1/4 teaspoon of ground ginger
1/4 teaspoon of freshly grated nutmeg
good pinch of ground cloves
good pinch of ground cinnamon
200g (7oz) piece of Irish Piedmontese fillet – about 1 inch thick brought to room temperature
1 tbsp of vegetable oil
Horseradish Cream
75g (3oz) creme fraiche
25g(1oz) horseradish sauce
Wild Rocket to serve
Salt and freshly ground black pepper

Method
Preheat oven to 220c (425 F/ gas mark 7)

For the Yorkshire puds divide the vegetable oil evenly between the cups of a 24 hole mini muffin tin.

Place the tray in the oven for about 5 minutes until the oil is almost smoking.

Meanwhile sift the flour info a medium jug and make a well in the center. Add the milk, eggs and seasoning and beat together to give a smooth batter.

Carefully pour the batter onto the hot oil in the muffin tin, dividing it evenly.

Bake for 8-10 minutes until puffed up, crisp and golden. Remove from oven and take the Yorkshires out to drain on kitchen paper.

Preparing the Beef: Toss the spices together on a small plate with some salt and pepper and press the beef into it to coat evenly all over.

Heat the oil in a non stick frying pan and fry the steak for 2-3 minutes on each side for a charred medium rare finish.

Remove and allow to rest for about 5 minutes. Then use a sharp knife to carve it into fairly thin slices.

Finally make the sauce by simply stirring the creme fresh and horseradish together.

Arrange the yorkshire puddings on a large serving platter and spoon a little sauce on top. Twirl a slice of beef over sauce and top with some rocket leaves. Serve at once.

Developed by Food Stylist Sharon Hearne Smith, Food Stylist, www.blueberrypie.ie