ITALIAN STYLE FAMILY BRAISED BEEF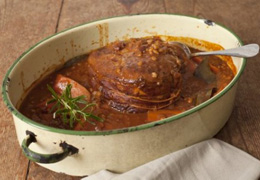 ITALIAN STYLE FAMILY BRAISED BEEF
May 24th, 2020
This is a great change of scenery from the usual family roast beef.
This is a great change of scenery from the usual family roast beef. It's a hearty one pot wonder which is sure to impress. Our Piedmontese beef cooks in a lot less time than regular beef, about an hour less in this case, making this an all round winner.
Ingredients
2 tbsp olive oil
1.5Kg (3 Lb / 6 oz) Irish Piedmontese Roast
150g (5 oz) pancetta cubes
2 onions, finely chopped
2 celery stalks, finely chopped
2 garlic cloves, finely chopped
3 carrots, each cut into 3 – 4 pieces on the diagonal
400g can chopped tomatoes
300ml (1/2 pt) good quality beef stock
300ml (1/2 pt) red wine
1 tbsp tomato puree
2 bay leaves
2 rosemary sprigs
100g (4 oz) pearl barley, rinsed
mashed potato or crusty bread, to serve
sea salt and freshly ground black pepper

Method
Place a casserole pot, which has a tight fitting lid, over a high heat.

Add one tablespoon of the oil and sear the beef all over for a few minutes until golden.

Remove and add the pancetta, cooking for 1-2 minutes until golden and remove also.

Reduce the heat a little, add the remaining tablespoon of oil and gently sauté the onions, celery and garlic for 4-5 minutes until softened.

Then add the carrots, tomatoes, beef stock, red wine, tomato puree, bay leaf, rosemary and salt and pepper.

Stir the pancetta through and then return the beef also, nestling it into the sauce.

Bring slowly to the boil, then reduce the heat, pop the lid on.

Simmer quite gently for 1 ½ hours, stirring the pearl barley through after 30 minutes.

Remove the beef from the sauce, to carve into slices. Arrange the slices on each serving plate and spoon the sauce over.

Serve with mashed potato or simply crusty bread.
Recipe by Sharon Hearn Smith www.blueberrypie.ie