HEARTY BEEF MEAT BALLS WITH SWEET POTATO & SPINICH MASH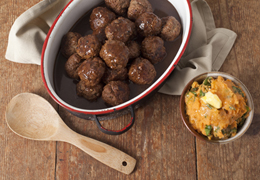 HEARTY BEEF MEAT BALLS WITH SWEET POTATO & SPINICH MASH
May 24th, 2020
These meatballs work just as well in a tomato sauce served with pasta or polenta.
These meatballs work just as well in a tomato sauce served with pasta or polenta. Alternatively, shape them into burger patties or even koftas on sticks for another meal idea. Whatever you decide to do, they can be prepared in advance and refrigerated or frozen, making them perfectly handy for quick family meals.
Ingredients
900g (1 Kg) beef mince
1 onion, grated and squeezed dry
2 tsp chopped thyme leaves
1 tbsp Dijon mustard
1 tbsp sunflower oil
Gravy
25g (1 oz) butter
25g (1 oz) plain flour
175ml (6 oz) red wine
600ml (1 pt) good quality beef stock
1 tbsp red currant jelly
few splashes Worcestershire sauce
Mash
1 Kg (2 ¼ Lb) sweet potatoes, peeled and diced
50g (2 oz) butter
75g (3 oz) baby spinach leaves
sea salt and freshly ground black pepper

Method
Mix the minced beef in a medium bowl with the onion, thyme, Dijon mustard and seasoning until well blended.

Shape into 20 even sized meatballs, weighing about 50g (2 oz) each, arranging them on a tray as you go.

Pop them into the fridge to firm up for at least 30 minutes.

Heat a large frying pan on a high heat and add the oil.

Working in two batches, fry the meatballs for about 8-10 minutes, turning them regularly, until they are a good even colour all over. Remove with a slotted spoon and keep them covered with foil and in a warm place.

Then, make the gravy in the same pan, so turn the heat down to medium.
Add the butter to the pan and once melted, stir in the flour to make a paste, scraping any sticky brown bits in the pan as you go.

Slowly add the wine until the paste is well blended and allow to bubble for about 2 minutes.

Next, add the stock, red currant jelly and Worcestershire sauce and allow to simmer for 6-8 minutes until thickened. Season to taste with salt and pepper.

Return the meatballs to the sauce to warm through gently for about 3-4 minutes, basting occasionally.


Meanwhile, prepare the mash.
Cook the potatoes in a large pan of boiling salted water until tender. Drain well and mash with the butter until smooth. Season to taste and stir the spinach leaves through, allowing them to wilt in the heat of the mash.

To serve, spoon the mash and spinach onto each serving plate and top with meatballs and a spoonful of rich gravy.

Recipe by Sharon Hearn Smith www.blueberrypie.ie