BEEF STEAK WEAP WITH HOMOUS, GRIDDLED AUBERGINE & ROASTED PEPPERS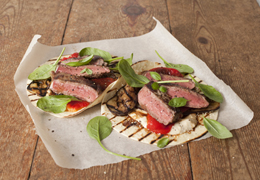 BEEF STEAK WEAP WITH HOMOUS, GRIDDLED AUBERGINE & ROASTED PEPPERS
May 24th, 2020
Ideal for family meals
This versatile recipe is ideal for family meals, to share with friends or even to grab and go when on the run.
Ingredients
2 red peppers
6 tbsp olive oil
1 large aubergine
1 tbsp balsamic vinegar
2 x 225g (8 oz) sirloin, striploin, rib or round steaks, at room temperature
4 flour tortilla wraps
1 tbsp sesame seeds
100g (4 oz) houmous
couple of handfuls of spinach
handful basil leaves
sea salt and freshly ground black pepper

Method
Preheat the oven to 200C (400F / Gas Mark 6).

Arrange the peppers on a baking tray and roast in the oven for 35-40 minutes, turning occasionally, until softened and well charred.

Remove, tip into a bowl, cover with cling film and leave until cool enough to handle. Then, peel and deseed the peppers and tear the flesh into quarters.

In the meantime, heat a griddle pan over a high heat.

Pour 4 tablespoons of the oil into a wide dish, stir the garlic through and season with salt and pepper.

Cut the aubergine lengthwise into 1cm (1/2 in) wide slices and toss them through the oil to coat evenly. Griddle for 2-3 minutes each side until softened and strong lines appear.

Return the slices to the dish and toss the balsamic vinegar through. Set aside to marinade until ready to serve.

Meanwhile, heat a large frying pan over a really high heat.

Drizzle 1 tablespoon of oil over the steaks and season well.

Fry on each side for 2 minutes for rare, 3 for medium- rare, 4 for medium or 5 minutes for well done.

Once cooked to your liking, remove from the pan and leave to rest, covered with foil, for 5-10 minutes, before slicing into pieces.

Wipe the griddle pan out and set over a high heat once again.

Brush the remaining tablespoon of oil over the tortillas and griddle on this side for about 30 seconds until charred.

Remove and scatter the sesame seeds evenly over the griddled side to stick.

Arrange each one, griddled side up, on a serving plate.

Divide the houmous between the tortillas, spreading it out.

Arrange the aubergine and pepper pieces over and then sit the steak slices on top. Scatter the spinach and basil leaves over and serve.

Recipe by Sharon Hearn Smith www.blueberrypie.ie