BEEF & STOUT PUFF PASTRY PIE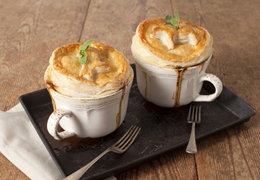 BEEF & STOUT PUFF PASTRY PIE
May 24th, 2020
Shop bought puff pastry is a perfect quick cheat to speed things up.
This undoubtedly takes more time than you might prefer on a week night, but if you plan ahead, the beef and stout mixture can be made in advance. Shop bought puff pastry is a perfect quick cheat to speed things up a bit too.
Ingredients
4 tbsp olive oil
900g (2Lb) beef stewing steak pieces
250g (9 oz) chestnut mushrooms, wiped clean & halved or quartered if large
2 onions, finely chopped
2 carrots, finely diced
2 garlic cloves, finely chopped
25g plain flour + a little extra for dusting
1 tbsp chopped thyme leaves
2 bay leaves
300ml (11 fl oz) stout
600ml (1 pt) beef stock
1 tbsp tomato puree
1 tbsp Worcestershire sauce
500g pack all-butter puff pastry
1 egg, beaten
your favourite greens like peas, beans, broccoli or cabbage to serve
sea salt and freshly ground black pepper

Method
Heat 2 tablespoons of olive oil in a large pan over a high heat. Working in batches, sear the beef all over until well browned.

Remove with a slotted spoon between batches, leaving any oil behind. Then, add another tablespoon of oil to the pan, reduce the heat a little and sauté the mushrooms for 4-5 minutes until golden.
Remove from the pan, adding them to the meat. Finally, heat the remaining tablespoon of oil in the pan and sauté the onion, carrots and garlic for 4-5 minutes until softened and just catching colour. Stir the flour through and then add the thyme and bay leaves.

Return the meat and mushrooms to the pan and increase the heat to high. Add the stout and allow it to bubble down for a minute or two before adding the stock, Worcestershire sauce, tomato puree and salt and pepper.

Bring slowly to the boil, pop the lid on and reduce to simmer gently for 1 ½ hours, removing the lid after an hour. The beef should be tender and falling apart and the sauce reduced and thickened. Check seasoning, adjusting if necessary.

When ready to assemble and cook, preheat the oven to 200C (400F / Gas Mark 6).

Roll the pastry out on a lightly floured surface to a few millimetres in thickness. Use the top of a ramekin as a template to cut out 4 discs.

Use the remaining pastry to make 4 strips (about 1-2 cm wide) to go around the edge of the dishes.

Then use any remaining pastry to stamp or cut out a cow, leaves, words or whatever decoration you like.

Arrange the ramekins on a baking tray and divide the beef mixture evenly between them (discarding the bay leaf as you go).

Arrange the strips of pastry around each edge, pressing down a little before brushing a little beaten egg over. Place a disc of pastry on top, and pierce all over with a fork. Use the back of a knife to feather all around the edges.

Brush all over the top with egg and then arrange the pastry decoration on top, brushing it with egg also.

Bake in the oven for 25-30 minutes until the pastry is crisp and evenly golden. Place a beef and stout pie on a base plate and serve at once with your favourite greens.

Recipe by Sharon Hearn Smith www.blueberrypie.ie