WARM BEEF AND ROAST VEGETABLE SALAD WITH FETA, HAZELNUTS & MINT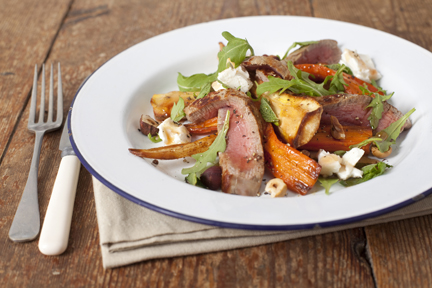 WARM BEEF AND ROAST VEGETABLE SALAD WITH FETA, HAZELNUTS & MINT
May 24th, 2020
Using up leftover roasted vegetables
This is a great way of using up leftover roasted vegetables. If you are planning ahead, roast extra vegetables one day intentionally having them ready for the next meal. You can then add them to the salad either at room temperature or warmed through. This is a great salad for a dinner party or lazy lunch.
Ingredients
350g (12 oz) carrots, peeled
350g (12 oz) parsnips, peeled
2 tbsp olive oil
½ tsp cinnamon
25g (1 oz) hazelnuts, roughly chopped
2 x 275g (10 oz) beef fillets, at room temperature
100g (4 oz) feta cheese, broken into pieces
handful mint leaves
25g (1 oz) wild rocket
Dressing
2 tsp extra virgin olive oil
2 tsp redcurrant jelly
1 tsp red wine vinegar
sea salt and freshly ground black pepper

Method
Preheat the oven to 200C (400F / Gas Mark 6).

Quarter the carrots and parsnips lengthways, removing the core of parsnip. Toss them on a large roasting tray with one tablespoon of the oil and the cinnamon and spread them in an even layer.

Roast for about 45 minutes until softened and just beginning to char. Toss the hazelnuts in for the last 10 minutes of cooking.

Meanwhile, heat a large frying pan over a really high heat.

Drizzle the remaining tablespoon of oil over the steaks and season well.

Fry on each side for 2 minutes for rare, 3 for medium-rare, 4 for medium or 5 minutes for well done.

Once cooked to your liking, remove from the pan and leave to rest, covered with foil, for 5-10 minutes, before carving into fairly thin slices.

In the meantime, make the dressing.

Simply whisk the oil, redcurrant jelly and vinegar together until smooth and season to taste with salt and pepper.

Finally, to assemble, divide the roasted vegetables and hazelnuts between each serving plate.

Lay the beef slices on top and scatter the feta, mint and rocket over. Drizzle the dressing over and serve at once.

Recipe by Sharon Hearn Smith www.blueberrypie.ie