SAUSAGES WITH BUTTERBEAN MASH AND SPINACH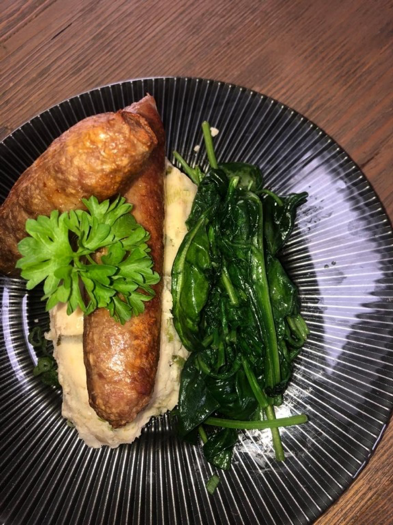 SAUSAGES WITH BUTTERBEAN MASH AND SPINACH
May 24th, 2020
Blackcastle Farm Sausage Recipes
Developed by:
Executive Chef, Paul Lafferty with Tuscany Restaurants, Limerick
Paul Lafferty is a classically trained executive chef who has worked in a variety of awarded fine dining restaurants both in Ireland and the UK. He is currently the executive chef of the Tuscany Bistro restaurants with locations in Limerick and Tipperary. Paul works with the freshest and finest locally sourced ingredients to create tasty, healthy and wholesome dishes, both at work and at home.
Ingredients
4 piedmontese sausages
2 x 400g of butter beans (drained and rinsed)
200g baby spinach (washed)
Bunch of spring onions (finely sliced)
1 garlic clove (crushed)
1 lemon (zested and juiced)
3tbsp olive oil

Method
Sausages:
Heat grill to high.
Brush 1tbsp of oil over sausages and grill, turning regularly until cooked through (approx. 5-10mins).
Butterbean Mash
Heat 1 tbsp of oil in a saucepan on a low heat, add most of the spring onion and cook until soft.
Add the beans, garlic and lemon zest and juice. Cook for a few more mins, then gently mash.
Heat through and add season to taste, then add the remaining spring onions.
Spinach
Heat oil in pan, add spinach, season and serve once wilted.